Posted On: June 27, 2018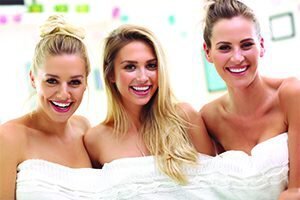 Summer means sun and fun for you, but wear and tear for your skin. After being bundled up under sweaters and scarves for months, it's suddenly exposed to an extra helping of ultraviolet radiation, not to mention oily sunscreen, barbecue smoke, and a million other things the season throws at you like a foul ball.
Never fear! Grand Rapids plastic surgeon, Dr. Brad Bengtson, and his team of licensed medical aestheticians at the Symmetry Skincare and Laser Center is on hand to make the save, protecting your skin from an opposing team of elements out to make early signs of aging appear. When it comes to skincare in Grand Rapids (and beyond), they're ready to knock it out of the park.
Do you have specific skincare concerns? Our licensed medical aestheticians will step up to the plate with custom suggestions to create a personalized at-home regimen designed to best treat your skin - not your neighbor's, and certainly not some stranger's. Just because school's out doesn't mean you can't learn a thing or two (and unlike AP calculus, this education is actually fun and applicable to your everyday life).
In the meantime, there are a few things you can be doing at home to tailor your current skincare regimen to hotter weather.
If you exfoliate in the morning, consider changing your frequent attacks on dead skin to a pre-bedtime routine. This will give your freshly scrubbed and sensitive face time to heal while you rest, as opposed to sending it right out into the harsh glare of the summer sun (which can cause damage). A patient favorite is the ZO Skin Exfoliating Polish!
Go for balm over gloss. Even if you're drinking the recommended number of glasses of water each day (What are we up to now? Eight? Twelve?), your lips can dry out. With options in cute colors, you can kiss dry, dull, and drab lips goodbye - all with one pucker!
You're good in a pinch, handling two (or more!) things at once throughout your day. Shouldn't your skincare products do the same? Ease is the name of the game for summer, so ditch your separate sunscreen and lotion for a product that combines the two in one. You'll have silky smooth skin and the protection you need to keep it that way. Home run!
For more ideas on how to keep your skin happy and healthy all summer long, whether you doze the days away in a hammock or let someone take you out to the ballgame every weekend, contact the Symmetry Skincare and Laser Center team at the Bengtson Center by calling 616.588.8880 or sending a message online.
Written by
Bengtson Center for Aesthetics & Plastic Surgery